These are U.S. agencies for reporting Child Pornography.
Please also see:
Report Child Pornography - International Agencies
Child Pornography Articles and Media Reports
---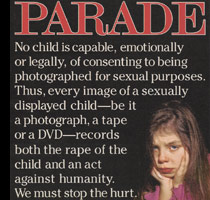 "[I]f we are to wage war [against child pornographers], we must know our enemy. We need to know more about those who create this unspeakable 'product,' why they do it and the various ways it is used ... The question then becomes: What can we do?" Learn more about Andrew Vachss' latest cover feature for PARADE—and read an exclusive Q&A with Mr. Vachss that more than doubles the information in the original article—by clicking here.
---
Child Exploitation and Obscenity Section
Criminal Division
U.S. Department of Justice
1331 F Street NW, 6th Floor
Washington DC 20004
Phone: 202-514-5780
www.usdoj.gov/criminal/ceos/
The Child Exploitation and Obscenity Section (CEOS) of the Criminal Division, U.S. Department of Justice, has supervisory responsibility for Federal statutes covering obscenity, child exploitation, child sexual abuse, activities under the Mann Act, sex tourism, missing and abducted children, and child support recovery.
Innocent Images National Initiative
Federal Bureau of Investigation
www.fbi.gov/hq/cid/cac/innocent.htm
The Innocent Images National Initiative (IINI), a component of the FBI's Cyber Crimes Program, is an intelligence-driven, proactive, multi-agency investigative initiative to combat the proliferation of child pornography/child sexual exploitation facilitated by an online computer.
ICE Cyber Crimes Center
U.S. Immigration and Customs Enforcement
Toll-free: 1-866-DHS-2ICE
/www.ice.gov/graphics/investigations/services/cyberbranch.htm
U.S. Postal Inspection Service
Inspection Service Operations Support Group
222 S. Riverside Plaza, Suite 1250
Chicago, IL 60606-6100
www.usps.com/postalinspectors/kid-porn.htm
Quasi-governmental missing kids center enjoys key exemptions from federal rules
Exposè of the National Center for Missing and Exploited Children (NCMEC)
St. Petersburg Times, January 25, 2010