Art Auction for PROTECT
Chicago, Illinois - August 27, 2004
If you're around Chicago on August 27, 2004 and are looking for something great for your walls that will also benefit a great cause, look no further. TKO Tony Fitzpatrick has done it again, organizing dozens of today's greatest contemporary artists for an auction to benefit Protect, America's first political lobby for child protection.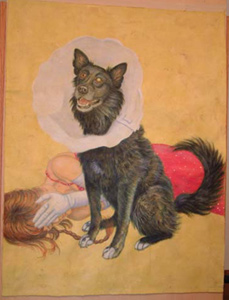 Zora and Riva in Middle Age, 2004
Riva Lehrer
Contributors include Fitzpatrick himself, known for his visions tracing the history of Chicago; Steve Earle, a singer known for his rebel stance and advocacy of social justice; actor, comedian and painter Martin Mull; Riva Lehrer, whose magnificent contribution to the auction has already gotten a bid of $1,000; and Geofrey Darrow, conceptual designer on The Matrix Trilogy. Other artists participating include Wesley Kimler, Ed Paschke, Adrienne Armstrong, Richard Hull, photographer Marc Hauser, Joe Coleman, Julie Murphy, Michael Pajon, Scott Espeseth, painter and Mekons and Waco Brothers frontman Jon Langford, Gary Panter, Don Colley, Jose Bedia, Antoinette Ledzin, and Michael Tropea.
On Friday, August 27th, 2004, a silent auction will be held at Belloc Lowndes, 835 West Washington, from 6:30 to 9:00 p.m. Admission is free.
All proceeds from the auction will go to Protect, America's first political lobby for child protection. Protect was formed in 2002 as a lobby to eliminate the incest exception laws that, at the time, existed in 38 states. Since lobbying for closure of the exceptions that offer bonuses to predatory pedophiles for making victims of their own children, Protect has been victorious in North Carolina, Arkansas, Illinois, Virginia, and Tennessee.

Bower Leaves, 2002 - Tony Fitzpatrick

Hide and Seek, 2000 - Adrienne Armstrong

Untitled, 2003 - Joe Coleman

Cool Tombs, 2003 - Richard Hull

Lost and Found, 2004 - Michael Pajon
Click here to view more artwork from the auction.