Trojan Horses
Signwave
by Andrew Vachss
Read another excerpt HERE!
---

Noteworthy Reads: SIGNWAVE by Andrew Vachss
A new novel by Vachss is always an event, and SIGNWAVE ––– third in the Shockwave series, featuring former legionnaire/mercenary Dell and his beloved wife Dolly ––– is no exception.
As always, the prose is scalpel sharp, the insights are deep and impactful, and the family of choice and anti–abuse against the vulnerable messages are as strong as ever. Threaded through all of this, however, SIGNWAVE is as much as anything a love story ––– the love between Dolly and Dell, and particularly the ultra–devotion of the latter to keep his wife secure and safe in the "dream home" he has established for her.
The flashbacks describing Dell's former life as a soldier and assassin, the lessons that shaped him and made him a survivor of those worlds, not only relate some mesmerizing events but also serve to help the reader under–stand the steps he feels compelled to take, even in his new life, for the sake of protecting that which he loves. And when Dolly receives a thinly veiled threat regarding some curious land dealings she is peripherally involved with, Dell's obsessive protect sensors go on full alert. In the course of investigating the man who made said threat, Dell uncovers complex business maneuvering, false identities, corruption and duplicity at many levels from many angles.
It will take all of Dell's savvy and some very harsh measures on his part ––– not to mention some aid from the ever–strengthening, family–like circle of friends surrounding Dolly and him ––– before security is once again restored to their "dream" environs.
Another intense, powerful, multi–layered gem from Vachss. Nobody does it better.
Strongly recommended.
Posted by Wayne D. Dundee at 4:14 PM Sunday, June 14, 2015
---

As so often in Vachss, the story is less notable as a story, or an exploration of characters in conflict, than as an extended meditation on what Dell aptly calls "the zen of violence."
KIRKUS REVIEW
---

With Andrew Vachss's trademark razor–sharp dialogue and inimitable prose style, SignWave—the third entry in the Aftershock series—is guaranteed to reverberate powerfully long after it has been read. Link to: Hardcover Paperback Audio eBook
---
In Vachss's entertaining third Aftershock novel (following 2014's Shock Wave), the deadly Dell, who's put his career as an assassin behind him and retired to the Oregon coast, where he lives off the grid, once again comes to the rescue of Dolly, the great love of his life, who is as active in their community as he is reclusive. Dolly has drawn the ire of a local businessman, George Benton, who is up to something nefarious involving a big land purchase. George's intentions are baffling, but figuring out the mystery has little to do with the fun of this series. Dell's protective instincts when it comes to Dolly are beyond obsessive, and it becomes obvious that anyone who crosses Dell is going to die, usually in a very bad way. Lots of assassin lessons and killing lore make turning the pages a learning experience in the dark arts as much as a riveting read.
www.publishersweekly.com
---
Sons of Spade Review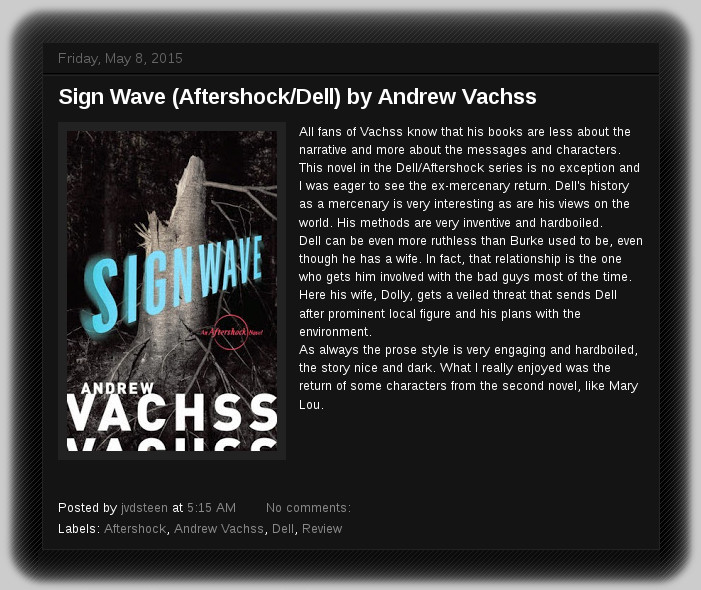 ---

Dell used to be a mercenary; later, he was an assassin. His partner, Dolly, was a battlefield nurse. Their collective pasts contain enough nightmares for a thousand lives. Together they've carved out a quiet life in an Oregon small town where the timberland and the ocean meet. Occasionally, ell's old skills are needed, but he has to be careful not to let his paranoia determine his actions. When former hedge–fund director George Byron Benton seemingly directs a threat toward Dolly, Dell does a deep background check. Benton is not who or what he seems, and he is a genuine threat to Dolly and to anyone else with whom he comes in contact. Dell is determined to take Benton out in such a way that no suspicion will ever be directed at Dolly or him. This third in Vachss' Aftershock series again draws strongly on the appeal of the two lead characters. Dell is a formidable, dangerous man, but he's no match for Dolly's indomitable spirit and fiery temper. Less bleak than Vachss' other work, this series could attract more than a straight–noir audience, similar in that way to Max Allan Collins' Quarry novels. –Wes Lukowsky
Jun 2015. 272 p. Pantheon, hardcover, $26.95. (9781101870440). Pantheon, e-book, (9781101870457).
---
NOTE: THIS IS A REVIEW, NOT A "RATING." THE LATTER SHOULD ALWAYS BE IGNORED, AS NOT BASED ON ACTUAL READINGS OF THE BOOK. THIS GOES FOR ANYTHING YOU SEE IF THIS "FORUM."
| | |
| --- | --- |
| | Let me begin this review by saying that I'm going to be rereading this book—not in a few months or years, but soon, in the next few days. There is simply too much here to absorb in the kind of one–gulp reading I've given SignWave. As always, Vachss has layered his plot with character development, observations about the world and about people, and an enormous number of lessons that merit careful attention and thoughtful application. |
Do not, however, make the mistake of thinking that this wealth of additional content weighs down the story. Vachss is a master at balancing reflection and motion. His detours into the past always serve to illuminate not only his protagonist's history and education, but the problem he is facing at the time. There is nothing extraneous in this novel—no padding, no fat; it's all meat. You can read it as a story for simple enjoyment, or you can really sink your teeth into it and come away with enough to keep you thinking and learning for a long time.
As always, the main character, Dell, is engaging in a scary "don't cross that line" sort of way. His devotion to his wife is the one thing that makes it possible for him to share space with "normal" people. As much as Vachss lets the reader like and admire Dell, he also never lets the reader forget that Dell's background makes him one dangerous hombre. For example, in the first novel in this series, Vachss introduced two characters, Mary Lou and Franklin, who have continued into the second and third novels. Because of Dell's actions in the first novel, Franklin will do anything for him. Mary Lou has also proven her dependability, yet Dell acknowledges that if his wife were in danger and saving her meant killing one or both of these characters, he would do so without a blink. Vachss never lets you forget that Dell, even more than Burke (the protagonist of Vachss's longest series), defends a territory that is strictly limited to his family—in this case, only Dolly.
At the same time, these novels seem to be showing the very slow development of a family of choice. In the Burke series, the reader is presented with Burke's family as a fait accompli. Seeing how such a family comes about could be a great boon to those whose families of origin leave them in need of a family of choice. If more books follow in this series, it will be interesting to see how this family plays out.
Vachss provides enough interesting and complex characters around his protagonist to serve as foils for him and also to provide other points of view and insights that Dell's background would not allow. Dolly continues to grow into a more interesting character and her unflagging dedication to making her community a better place does more than simply provide a catalyst for the plot. She allows Vachss to address issues far beyond those that would register for Dell. Mack, the social worker introduced in the second novel of the series, plays a smaller role here, but still serves as both a student for Dell and an alternative way of looking at things. In short, there are no extraneous characters here. Each one plays a role both in the plot and the education of the reader.
And yet, in classic Vachss style, all these characters and all the threads of the plot come together to create a tapestry that is far more than its components originally suggest. Will you have to work at times to follow each thread through the novel—probably, unless you're far smarter than I. Will you be glad you made the effort—absolutely.
Disclosure: I received an ARC of SignWave from the publisher. My opinions are entirely my own.
Nancy at Goodreads
---
---