Andrew Vachss: Flood's Angry Author
By Laurence Shames
Published in Playboy, February 1986
---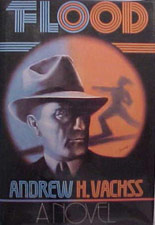 "I don't consider it paranoia," says author-lawyer Andrew H. Vachss, speaking of the constant state of snarling suspicion in which the gumshoe protagonist of his acclaimed first novel, Flood, spends his unshaven days and undreaming nights. Vachss' private eye, a guy named Burke, operates in a slimy Lower Manhattan dockside hell populated by various baby rapers, gunrunners, pimps and snuff-film magnates. His client wants him to find the man who raped and murdered her best friend's child, and as the story unfolds, the full ugliness of exploiting kids swells, and oozes like a lanced boil. Understandably. Burke won't even pay a social call without toting an assortment of small arms, Mace, flares and tear gas. "Paranoia is fear for no good reason," says Vachss. "These are sound, healthy adaptive mechanisms."
Unlike most detective writers, Vachss, 43, has firsthand knowledge going back 20 years, when, as a Government health investigator, he was assigned to track the spread of venereal disease, "doing fun things like taking blood samples at three A.M. in moving cars." Vachss found that the deeper he dug into the underworld of clap, the more he found the infection passed along to kids of both genders who were nowhere near the age of puberty, let alone consent.
Their plight became Vachss' obsession. He belatedly put himself through law school and now limits his practice to defending the victims of sexual abuse and representing the state of cases where abusers or kiddie-porn dealers are up for crucifixion. But it may turn out that Vachss' most valuable pro bono work will be done through his novels. He has at least two more planned on the same theme one on the organized-crime angle and another built on the Government complicity. "I'm not looking to raise consciousness," he says. "I want to make people mad."